Ben hoofs around the Cleveland Museum of Art before a big fundraiser. (October 23, 2016)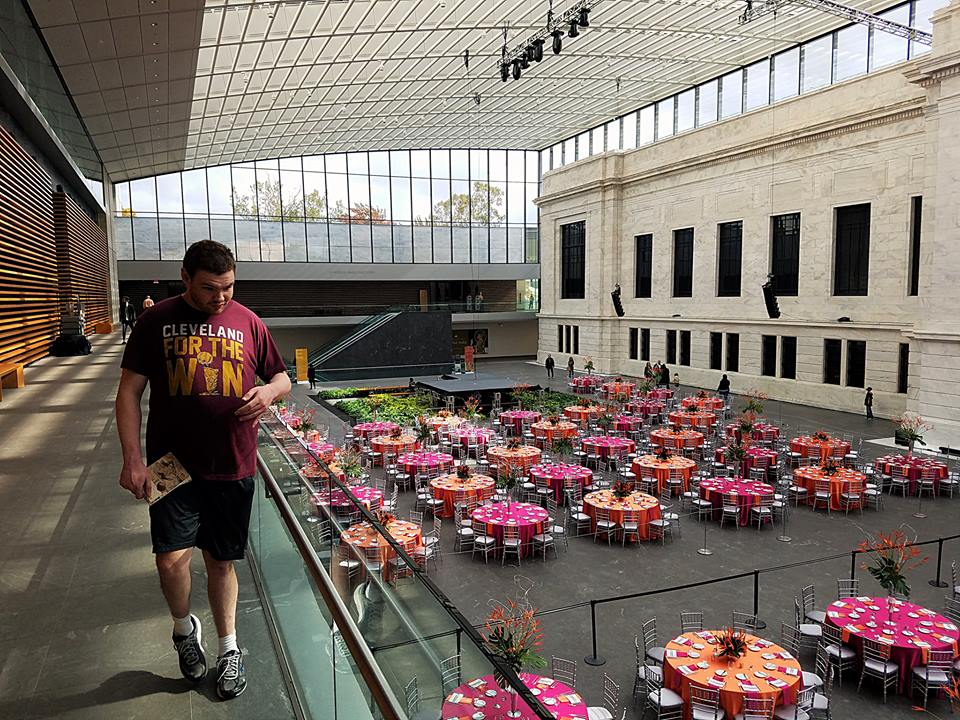 We LOVE this space, and the entire Cleveland Museum of Art. And so does Ben, which makes it truly special — a place where he is always happy to leap from the car to go in, chattering and with a smile (and receiving plenty of startled glances and then smiles back!). Of course, like most places with Ben, the visits are a bit different than they would be for most families visiting an art museum. As Karen calls it, it's the Evelyn Wood Speed Viewing art museum experience. He walks it at his usual clip, which is fast, through the entire place, and we keep up and keep him directed, and that's about it. But he does notice everything he walks by, even if it isn't always apparent he is looking. I'm constantly saying, hey Ben, what's that, and he'll give me his interpretation. A horse, a car, and if it's abstract it's always interesting to hear what he comes up with. But it's always on the move.
This particular space, where they added a beautiful modern huge space to the old and beautiful original building, is a joy to walk through. And, amazingly, it is free of charge, and since we do our thing usually around a half hour or less, they don't even charge us for parking. I hope they made a lot of money on their fundraiser, they deserve it. It is one of the gems of Cleveland. And, it is a great art museum. Even with our lightning-fast perusals, we have gotten to know the permanent exhibits fairly well, and are always impressed with the revolving exhibits and visiting exhibits. It is one of our most frequent places to go with Ben. We are always happy to go, all of us. And that is a real relative rarity!