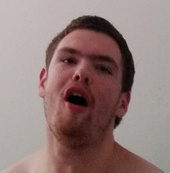 Sitting at a traffic light, car windows open, Ben in his usual spot – back seat, passenger side.
He's in a great mood, so he belts out, at full blast, "SOCCER BALL!!!!!" Nothing unusual to us. Not the case for the cute twenty-something blonde driver sitting next to us, her left ear three feet from Ben's lungs.
Her head whips toward us, the startled look on her face immediately shifting to frowny annoyance. Karen quickly says, "Sorry!"
Blondie turns her sour puss back to what she'd been engrossed in prior to being interrupted by Ben's bellow, which turns out to be – whadaya know – her cell phone.
Sorry no more, we join Ben in happy giggles.
Soccer Ball Blast – A Ben Moment