Saturday at the Cleveland Art Museum:
We came, we saw, we (Ben) tried the emergency exit, we heard the screaming alarm, we conquered, we left.
~~~
As Benny boy events go, this was nothing. It is a great Art Museum, and our visits are what I call Aerobic Art Museum-going. We walk through the entire place at Ben's pace, as he looks all around and I ask him what various pictures are and he gives me his takes, and we are leaving the parking garage in under 30 minutes, which means it's always free. (Today, it was 24 minutes.) The security guard saw what happened and came running over talking on her walkie-talkie as we kept on going, apologizing all the way. I don't think it was enough to get us banned for life.
Speaking of which…A rerun from 4 years back, putting today's little Benny moment at the art museum in perspective…
July 7, 2012 How To Get Banned From Costco
It was a brief but huge moment of Ben-induced panic before I heard Karen's voice outside of the Costco men's bathroom say, "Dave?!"
But backing up a little, it had been a fun day with our big Benny boy. I was still asleep when Karen woke up and decided to go get him earlier than usual, so I'd just gotten out of bed when they walked in. After having breakfast in the dining room, Ben did fine waiting patiently in our hotel room while we showered and got ready for the very hot day, which began at Half Price Books before we decided to head east to Moraine State Park, a couple hours from Cleveland in western Pennsylvania. Ben likes long drives, and if the weather is agreeable, he prefers having the car windows open. "Agreeable" to him means the temperature is between 0 and 105 degrees, with conditions from bone dry to hurricane. In the midst of our epic heat wave (several consecutive 100+ days in Chicago and pretty similar here in Cleveland), Karen and I decided the less time spent outdoors with Ben, the better, so the driving distance was actually a plus. Half the time, we were happily surrounded by cold air conditioning. Otherwise, we used the ol' 4-70 air conditioner (four windows open at 70 miles per hour) when Ben wanted open windows.
After cruising around the lovely state park, Ben was the center of attention as he paced all over a crowded Brown's Country Kitchen in Portersville, PA, requesting ice cream as Karen sat at the table and waited for the waitress to bring it (along with homemade pie).
On the drive back, Ben requested pizza for dinner. We prefaced our trip to Costco (Ben loves their pizza) with a quick jaunt to the shoe store. Ben hadn't had a proper fitting for a while, so we ended up with a super deluxe pair of $142 New Balance gym shoes that he wore out of the store. Next stop, Costco for pizza.
After a slice with cheese and another of pepperoni, we headed to the bathroom.
First, I must say that bathroom "incidents" have become, thank [your choice: God, Absolute Being, All Knowing, All Powerful, Allah, Almighty, Creator, Divine Being, Father, Holy Spirit, Infinite Spirit, Jah, Jehovah, King of Kings, Lord, Maker, Yahweh, daemon, deity, demigod, demon, divinity, holiness, idol, master, numen, omnipotent, power, prime mover, providence, soul, spirit, totem, tutelary, universal life force, world spirit, Kurt Cobain], a rarity. Maybe that's why this felt so god-awful.
Karen has advised me toward sensitivity to a reader without a cast iron stomach when it comes to describing the scene, so let's just say when Ben dropped his drawers in the stall and I realized what had already happened and what was happening still, I thought, "Oh sh*t, Karen's cell phone is in the car, she's headed off to shop for Ben's underwear in Costco, and I can not leave this stall while Ben is here." It was panic.
And then it was Karen's super-duper olfactory glands to the rescue. After Ben ate his pizza and we had headed to the bathroom, Karen detected a faint whiff of what Ben had just begun. By the time Ben and I had reached the bathroom, I hadn't realized that he was leaving a trail of, well, let's just say it wasn't Hansel and Gretel's breadcrumbs. And thank [again, your choice], because that's why Karen was close behind, and the sound of her voice outside the bathroom rivaled the greatest works of Beethoven at that moment.
It seemed to take her forever to get back with fresh supplies (towels, underwear, swim trunks, etc.), but at least this was Costco, where she could find such things (an ACE Hardware, for example, would've presented an even bigger challenge for us to find a way to get him cleaned up and out). Too bad we had him wear his new shoes out of the shoe store — they've now had a unique breaking-in (and scrubbing).
After Ben was cleaned up, Karen asked me to wait outside the bathrooms for her to run into the woman's bathroom to wash her own hands — we'd been in the men's room the whole time, with guys in and out doing their thing. In fact, one guy, as he washed his hands, kept glancing over toward our stall, or more specifically, at what he could see under the stall's door, finally muttering "Nasty" as he walked out.
Oh, it was. But finally we were done enough to get Ben moving toward the exit. Two maintenance guys were waiting to clean the stall as we headed out, having already taken care of Ben's floor trail between the food court and the bathroom. I pitied them. They avoided eye contact with me.
As we waited for Karen to clean herself up in the ladies room, there at the back of the store, Ben moved toward a door that was adorned with huge, red-lettered signage warning of the dire, alarm-laden consequences of trying to open that door. I lunged toward Ben, too late of course.
"WooooEeeee! WooooEeeee! WooooEeeee!" screamed the first siren, joined immediately by "WeeeDahWeeeDahWeeeDah!!!!" and, just to be sure the point was made, "AhhWAHHH! AhhWAHHHH! AhhWAHHH!"
The sirens were coming from speakers in the ceiling, and not just around the back door, but throughout the entire, massive warehouse. People stopped. They looked around. Various Costco employees headed our way. Karen yelled from inside the bathroom, "Did Ben do that???" We headed toward the front door as Karen emerged from the ladies room and Ben pranced toward the exit with bare feet and a big grin.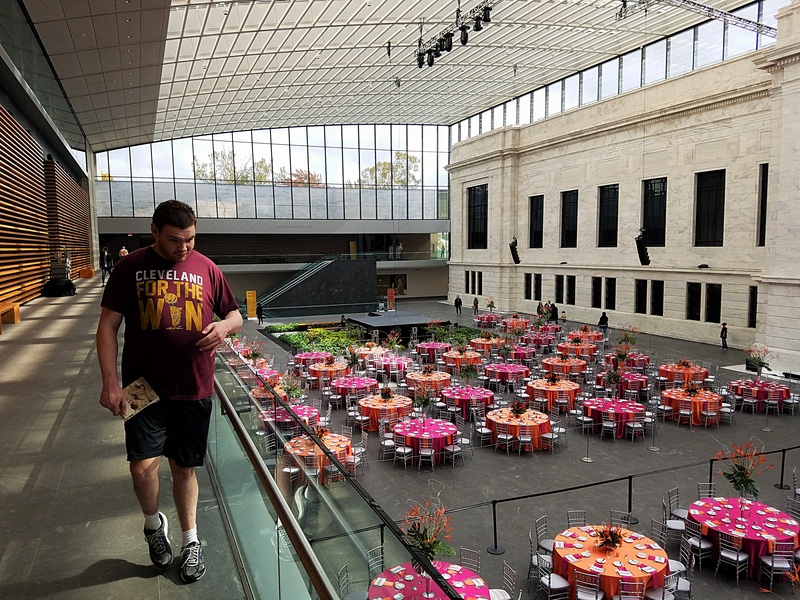 Ben at the Cleveland Art Museum in October, nowhere near an emergency exit.